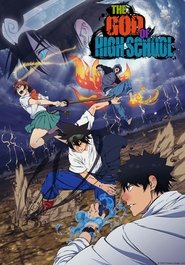 The God of High School
The God of High School is a movie starring Tatsumaru Tachibana. When an island half-disappears from the face of the earth, a mysterious organization sends out invitations for a tournament to every skilled fighter in the world."If you win you can have ANYTHING you want." they claim. They're recruiting only the best to fight the best and claim the title of The God of High School. Jin Mori, a Taekwondo specialist and a high school student, soon learns that there is something much greater beneath the stage of the tournament.
Genre: Animation, Comedy, Action & Adventure, Sci-Fi & Fantasy
Actor: Tatsumaru Tachibana, Kentarō Kumagai, Ayaka Ohashi, Daisuke Namikawa, Yuki Kaida, Asami Tano, Kenji Hamada, Chikahiro Kobayashi
Director: Manabu Akita
Production: AT-X, Tokyo MX, Crunchyroll
Duration: 24 min.
Quality: HD
First Air Date: Jul 06, 2020
Last Air Date: Sep 21, 2020
IMDb: 8.6