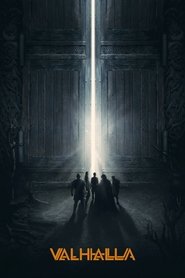 Valhalla
Valhalla is a 2019 Denmark, Iceland, Norway, Sweden Adventure film starring Roland Møller directed by Peter Madsen and produced by Profile Pictures with duration 105 min. The Viking children Røskva and Tjalfe embark on an adventurous journey from Midgard to Valhalla with the gods Thor and Loki. Life in Valhalla, however, turns out to be threatened by the dreaded Fenrir wolf and the god's barbaric archenemies, the Jotnar. Side by side with the gods the two children must fight to save Valhalla from the end of the world - Ragnarok.
Genre: Adventure, Fantasy, Thriller, Science Fiction
Actor: Roland Møller, Patricia Schumann, Ali Sivandi, Jacob Ulrik Lohmann, Salome R. Gunnarsdottir, Lára Jóhanna Jónsdóttir, Stine Fischer Christensen, Dulfi Al-Jabouri, Andreas Jessen, Asbjørn Krogh Nissen, Sanne Salomonsen
Director: Peter Madsen
Duration: 105 min.
Quality: HD
Release: 2019
Production: Profile Pictures
IMDb: 5.7